About us
A collaborative raw bar, restaurant, and market experience in Tampa Bay joining you with captain, farmer, and chef.
Helm is the first brick-and-mortar for Haran Hospitality and with dedication will not be the last. We are here to deliver not just food and beverage but an experience that will make you want to come back time and time again. Michael was born and raised in Fort Lauderdale, studied in Rhode Island, and lived in Maine. Heidi was born in upstate New York, grew up in South Carolina, put her roots in Florida, and is never pulling them up again. Those geographical influences will be found in the plates and cases of Helm and we can't wait to share them with you.
MEET THE TEAM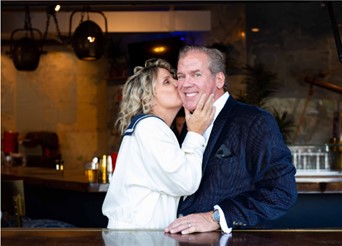 Heidi B. "Captain"
CEO and co-founder of Haran Hospitality with over 20 years of industry experience. Heidi thrives in the creative realm. Combining her interior design experience with an intimate knowledge of restaurant operations, she is quick to provide consistent results that come from outside the box. Heidi's expertise is well-rounded; she has served as a culinary instructor, brand consultant, and designer. She applies a passion for creativity and serving others in all she creates. However, first and foremost is family. If you aren't already family, you will certainly be treated like you are a part of theirs.
Michael B. - "Owner"
President and co-founder of Haran Hospitality. An industry veteran with over 30 years of hospitality experience, Michael oversaw all areas of design and construction as well as operations including hotel, kitchen and bar design, and restaurant concepts. The foundation of his success lies in his education at Johnson and Wales, Providence RI in Culinary Arts, and Florida International, Miami for Hospitality Management. Michael's long and winding road through the hospitality industry leads him to be the great culinarian, leader, designer, and trainer that he is today. He strongly believes that everyone is part of the bigger picture and we all need to be in that picture to make it complete.